Reading Voraciously Website
PROGRAMS:
Illustrator | Wordpress | Figma
I created the logo, branding, assets, and website for the literary food blog
Reading Voraciously
.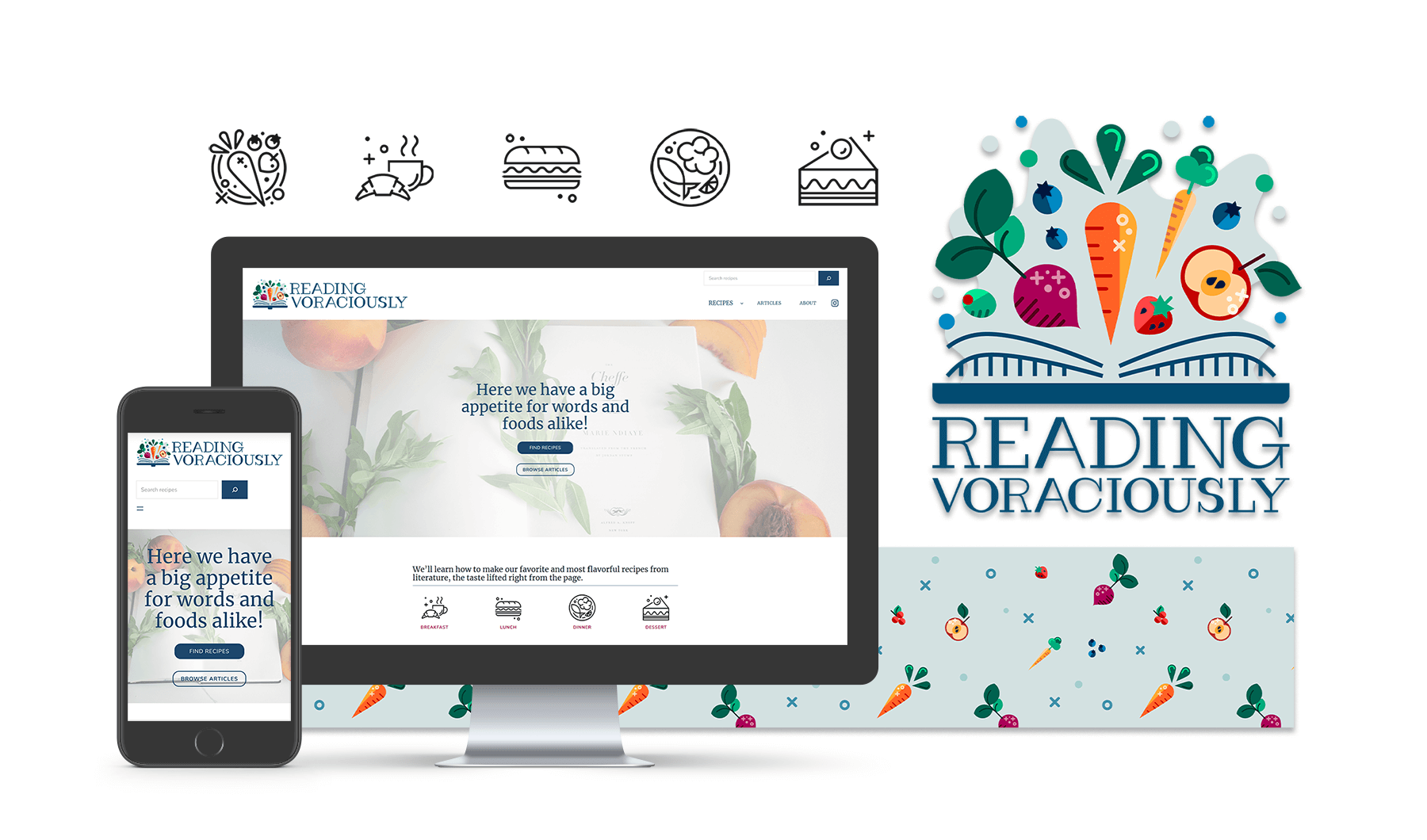 The client, a writer and cook, wanted to create a food blog where she would create and share recipes from food descriptions in classic literature. She wanted the website to be approachable and grounded but classy enough to live up to the works she was discussing in her recipes and articles.

The client wanted the website to be affordable and easy to update, so I created a website in Wordpress that is easy to edit and maintain.

I began by creating a logo and branding. The client wanted the logo to be bursting with food and colors while avoiding a messy look.

We went with clean, geometric shapes that spill over into the web icons as well.
The font of the logo is a variation on a slab serif font. The serif and line weight variation of the text alludes to classic fonts often used in books, while the thick slab serif makes the logo feel more modern and playful.
I developed a pattern from the logo assets that we ultimately did not use in the website itself, but that the client can use in future posts and potential merchandise.

I created a prototype in Figma to test out and tweak before starting to build the website in Wordpress.

This allowed us to nail down necessary fonts, font sizes, and additional photos or assets needed.

The final website is built in Wordpress using the Meraki theme. To keep the website affordable for the client, we used a tier of Wordpress that does not allow for plugins, which sacrificed some customization, but I made up for some of it with custom CSS.

The design is simple and prioritizes the recipes and food photography. On each blog post additional recipes are displayed in the side bar, and users can navigate through all pages of the website easily.

Check out the website
here